Have you ever considered what sets your products and services apart from your competitors? Why should they choose you over them? What is it that makes your business unique?
You may have a modern mobile optimised website, snappy copy and a good looking logo but that's all just window dressing to the main purpose of your marketing – getting across to your prospects why they should go with your services as opposed to one of your competitors.
This is called your Value Proposition – defined on Wikipedia as…
"A value proposition is a promise of value to be delivered, communicated, and acknowledged. It is also a belief from the customer about how value (benefit) will be delivered, experienced and acquired"
You may think "it's obvious, surely everyone can tell just looking at us how we provide value to our customers" but look at it from your customers point of view. They probably don't know your business from Adam and won't want to take time to discover your value proposition, they won't read through reams of text to discern it for themselves. They want it front and centre, obvious immediately as soon as they see your brand or reach your website home page.
I've been spending a lot of time thinking about Lobster's Value Proposition recently. It's very easy to lose sight of it over time and when you spend as much time as I do tweaking and changing my website sometimes the Value Proposition can get lost in the changes. I'm also adding more and more value to Lobster's services all the time so our Value Proposition changes often.
I set down a few days ago to define exactly what I believe sets Lobster apart from other web designers and digital marketers. After all, there are plenty of others who do what Lobster does – it's not exactly a unique selling point to just build and market websites.
We're also hampered in our marketing by not targeting a niche sector – a mistake I made as a novice business owner when I started Lobster in 2004. If I was starting again now I would have focused on a specific type of customer – possibly Estate Agents or Gyms (to align with my recent personal fitness drive). That would give me a clear Value Proposition immediately – for example "we only build websites for Estate Agents so understand exactly what you need". Having such a wide target to market too means that my value proposition is too broad and also means that my marketing spend has to be spread across many areas instead of being able to focus on specific areas.
One of the introductions I've made recently to our Value Proposition is the addition of our new Marketing Dashboard – an online system that provides our clients with their website visitor statistics and tracks leads generated through their enquiry forms on their website through a built in CRM system. From this dashboard, clients can also see progress of marketing work being done for them such as SEO, PPC and Social Media Management. None of our competitors currently offer anything like this to their clients and it genuinely adds great value to what we do.
How do you determine your Value Proposition?
There's a slideshare on the subject here which references a number of experts in this field. As with all marketing, you need to put yourself if the shoes of your ideal customer and work out what they really need. It's all too easy to just assume that what you do and sell is needed by customers but you're biased – you will always think that what you do and sell should be top of your customers Christmas list.
Establish what your customer needs :
What would make their lives easier?
Do you increase their income?
Can you improve their productivity?
Is there anything unique about how you solve your customers problems?
Have you defined exactly who your customers are?
Once you have the answers to these questions you can concentrate your answers down to a simple strap line for your business and then three or four bullet points that expand on your offering. Add this to the home page of your website and you'll save your site visitors from having to trawl through pages of content to discern it for themselves.
You can use a tool such as the Value Proposition Canvas from Strategyzer to give you a guide for defining your own VP.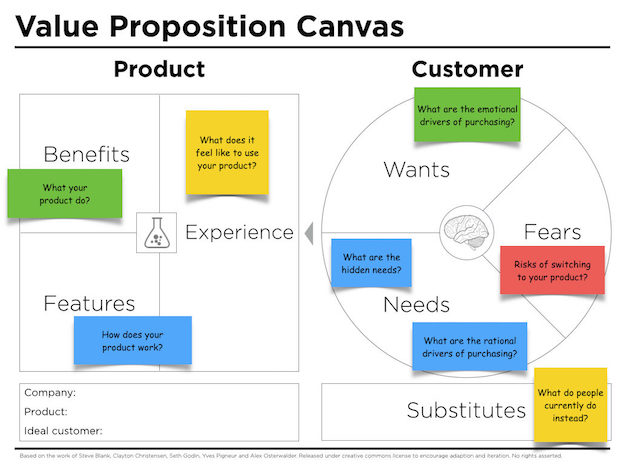 Looking for some inspiration? Check out these 32 Value Proposition examples from well known brands. Just remember that your Value Proposition is much more than a snappy strap line – it defines exactly what sets your business apart from your competitors.