Late last year, Google announced that it wants to move towards a more secure internet and will start to warn users of their Chrome browser about insecure websites (and with almost half of all internet users using Chrome, that's a lot of users!).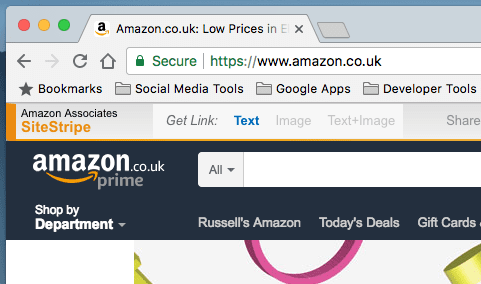 If you've purchased anything online then you should be familiar with the additional level of security that ecommerce websites employ to protect your sensitive data. You may have noticed a green bar or green text that says "Secure" (as in the example from Amazon) appear in your browser window next to the url of the website and if you've ever clicked it you'll know that there's a security message that reassures you that your data transfer is safe. You'll also notice that the address is https:// rather than the usual https:// (note the extra S for Security).
What this extra level of protection means is that the data that you type into your keyboard is being encrypted as it travels to the server of the website and should anyone be trying to intercept that data (to steal credit card details or passwords) then all they'll get is a load of gibberish.
The way this is done is by applying a Secure Socket Layer certificate to the hosting of that website. This is an arrangement with the owner of the website, the hosting company for that site and a third-party security provider and requires an annual subscription to keep the certificate up to date.
Google has decided that these SSL certificates are a good thing and have for a while prioritised sites with SSL's in their search algorithms but for most business website owners this hasn't been an issue and it's mainly effected more sophisticated websites – such as sites with membership areas, portals, log in areas etc. Your general 5 page brochure website owner hasn't needed to be concerned with this, until now.
What has changed?
To begin with, Google was targeting websites that take passwords such as those i've mentioned above. That's fair enough. If you're taking personal data and passwords then it makes sense to protect that information and your users by adding as much security as you can.
Now, however, Google is setting their sites on ALL websites – even those without any forms on their pages.
Why they're doing this, we can only guess but the consequence for website owners is that your visitors (just those using Chrome) will see a red warning such as this one…
Do you need to be concerned about the change?
Well, put yourself in the position of someone visiting your website and seeing a red warning sign saying Not Secure. Would YOU trust that company with your business? Would you leave that website and move to the next one that has a green SECURE sign?
Unfortunately, my belief is that users will leave a Not Secure website and move to the next site. Even if they don't realise that they're doing it. Also, Google is already using this as a ranking factor in the search results to a secure website will likely get a better placement in the search results than a non-secure site and it's likely that they will display a warning message in the search results themselves so users may not even click on your link at all.
What are the costs?
There are many SSL certificate providers out there and if you shop around you'll find one in your budget. Your own hosting company should be able to provide you with one too so ask them first.
For the record, Lobster can provide them too and if you're concerned about any of this then please feel free to message me directly and i'll do my best to help you out.