Today online businesses are booming like never before and the competition is very high.
So, laying a strong foundation for your first digital marketing campaign can set you apart from the competition.
In other words, your business's first digital marketing campaign is a stepping stone. It determines the subsequent growth and performance of your business.
However, putting a digital marketing plan into action might not be as easy. After all, there are dozens of platforms to choose from and hundreds of methods to implement.
A successful digital marketing campaign takes research, preparation, time, and patience.
There is a lot of noise to contend with to guarantee your message reaches the right people at the right time. Hence, it's important to plan each step carefully.
Here's a step by step process to help you begin with your first digital marketing campaign:
1. Determine Your Goals & Objectives
Setting objectives is the first step in creating a strong digital marketing campaign.
A well-defined digital marketing strategy with measurable objectives can assist you in prioritizing and focusing on the most critical aspects of your campaign.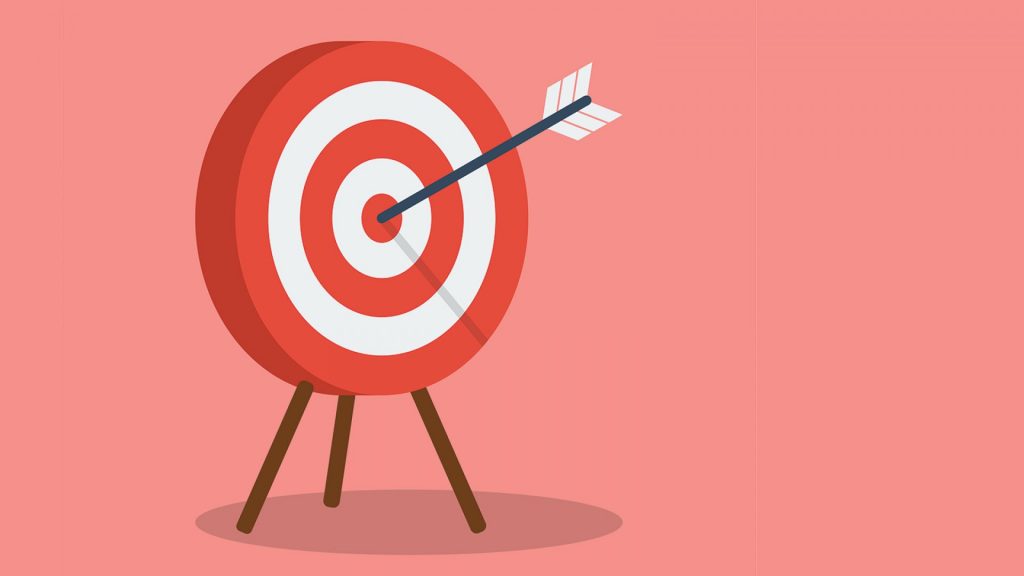 When deciding your objectives or key performance indicators (KPIs), be precise. Also, confine your goals as per the scope of the campaign and time constraints.
Here's how you can do it:
Review your online performance and marketing efforts in real-time
Consider what distinguishes your business from the competition
Brainstorm and generate a fresh idea for your campaign
Remember to check your marketing strategy every month to keep it new, relevant, and up to date with current trends.
But before you do anything, contemplate why you're doing it and whether it will help you attain your objective.
Taking a step back and analyzing may sometimes help in making better choices.
2. Study Your Target Audience
The target audience is the group of individuals who are most likely to be interested in the services or goods offered by you.
Defining your target audience is critical in developing a successful digital marketing plan.
Identifying the target audience for your business does not mean you will exclude those who do not match your ideal customer requirements.
It simply means the study will help you understand the target group, eventually identifying potential audiences.
So, what's the best way to study your target audience?
Deconstruct your market into two key segments:
Demographics
Psychographics
Explore the key characteristics of your target audience (demographics) to determine who desires your product or service and is inclined to buy it.
These characteristics include age, gender, occupation, personality, interests, etc.
This data provides a fundamental picture of your buyer persona's daily chores, activities, and purchasing choices.
Thus, it helps you identify your potential consumers and devise a digital marketing strategy for them.
Again, this is done to target your message to the individuals who will have the most effect.
Further, you can leverage the interests and traits of people (psychographics) to communicate with your audience.
They indicate why people purchase your goods or services, whereas demographics disclose who is purchasing them.
Observing the opinions, attitudes, activities, behaviors, etc. of your target audience may help you acquire insights into their preferences.
You can then integrate some of these insights into your digital marketing campaign.
Thus, it will be very helpful in developing your first digital marketing campaign.
3. Plan Your Budget
Budget planning is a crucial part of any and every digital marketing campaign.
It will be the main constraint on what you can accomplish with your marketing strategy while distributing your resources.
Budget is especially important if you're interested in running social media or PPC ads as part of your digital marketing plan.
Commonly, PPC ads work on an auction basis. That means the cost of PPC ads is directly proportional to the competition.
However, running ads on Facebook, Twitter, Pinterest, YouTube, etc., is quite cheaper.
Budget planning should be done appropriately to achieve targets using efficient means. However, it is critical to be realistic about your financial position.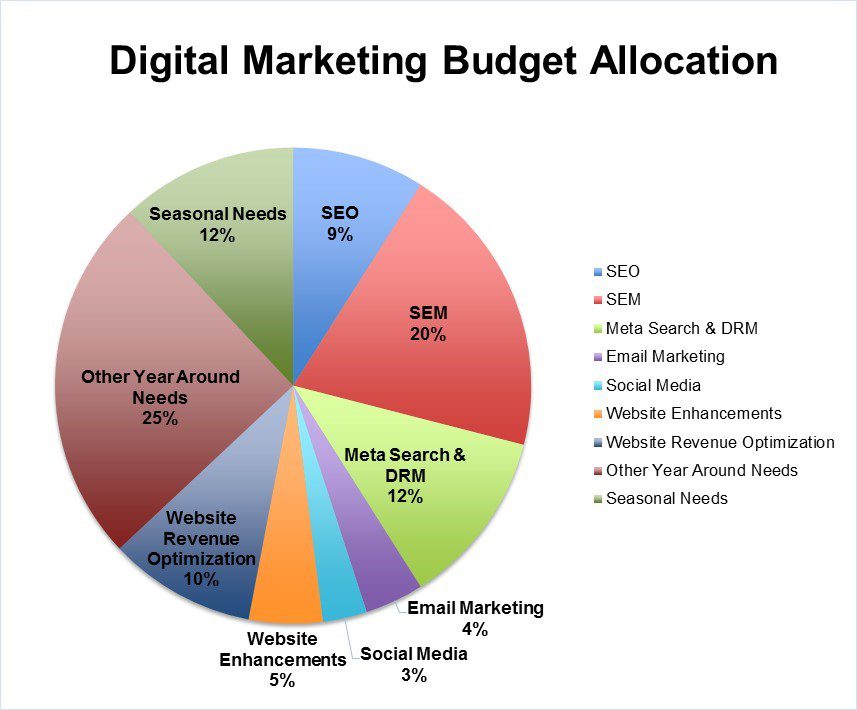 Distribute budget wisely, maintain excel sheets of daily expenditure, and tally it from time to time.
With that, you'll be able to make the most out of your first digital marketing campaign easily.
4. Select Platforms That You Want To Use
As you begin to plan your first digital marketing campaign, you will most likely design campaigns across various digital platforms.

The reason is simple: you want to reach your target audience wherever they spend time.
But because there are multiple platforms on the internet, you'll likely use a combination of platforms.
However, consider focussing on just one or two platforms when you begin (depending on your goals or objectives).
Let's understand it from an example:
Suppose you are a business that offers a Video Conferencing App.
Now people on Facebook or Pinterest might not be interested in it. But, someone searching on Google or Bing might be.
So, the platform you should primarily select should be the various search engines.
Whenever someone searches for a Video Conferencing App, your landing page can show up in the SERPs, and they can explore it.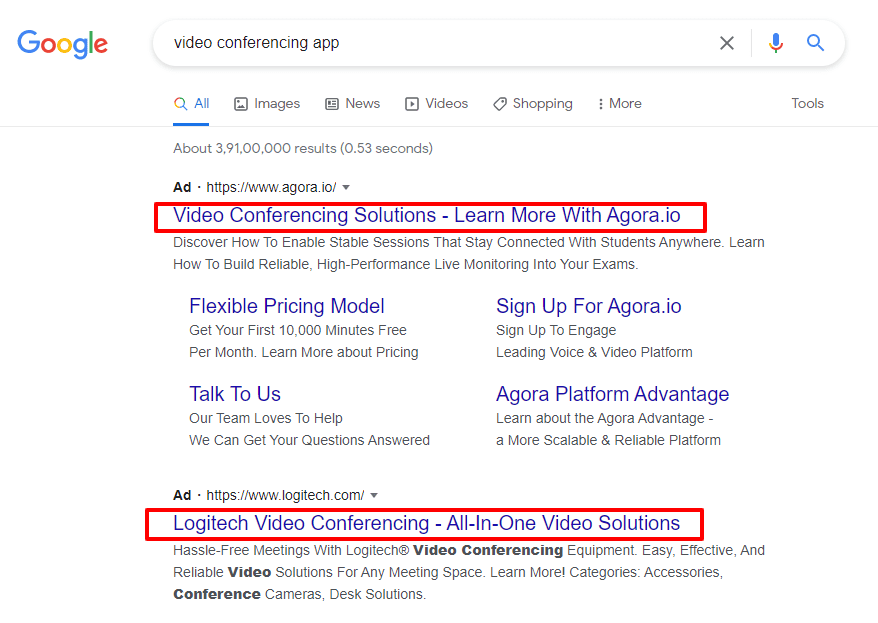 However, the same is not applicable on platforms such as Facebook or Pinterest. The audience there is not interested in buying.
Therefore, you must align the platform's capability and the goals of your first digital marketing campaign.
And the way you do that is via content.
Suppose you sell home decor items. The best platforms to promote it are Pinterest and Instagram.
The typical Pinterest users are not buyers; instead, users look at Pinterest for inspiration or ideas.
Thus, sending users to a related blog article would be more appropriate, like this blog topic "5 Budget Home Decor Tips For Your Dream Home".
This way, users will see relevant products through content.
Like this website, the blog directly suggests users buy different products based on their home looks.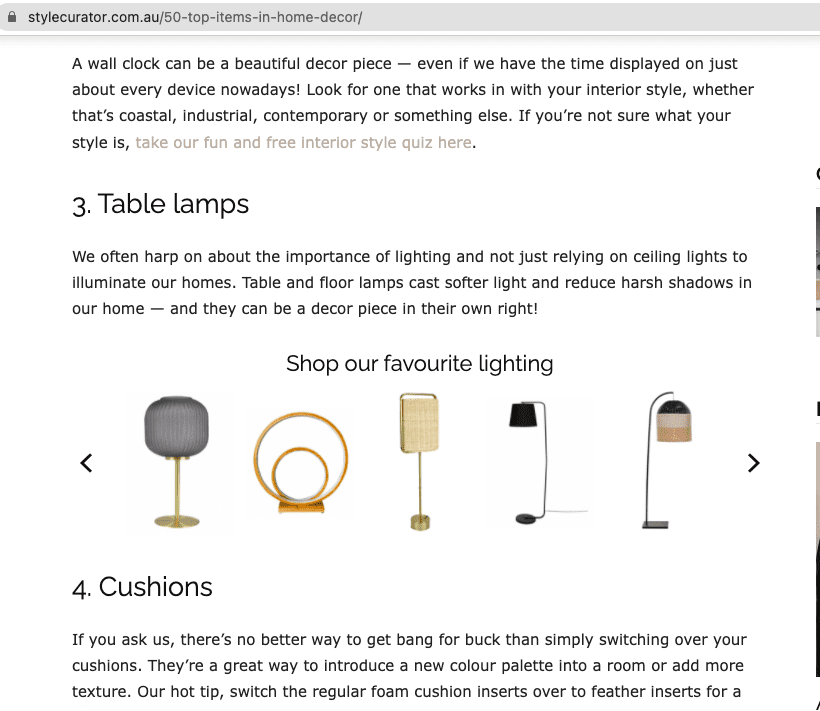 In contrast, users viewing your home decor items on Instagram can directly buy them via the shopping options available.
Thus, the choice of platform to digitally market your products or services is very important. Be the wisest of all here!
5. Perform Keyword Research For SEO & PPC
Keyword research is very important if SEO and PPC are a part of your first digital marketing campaign.
You can't reach your target audience without targeting the right keywords for your business.
Rankwatch offers a free keyword research tool to help you out.
Enter a base keyword (for example, Video Conferencing App) in Rankwatch's free keyword research tool. Then click on Explore.
Within a few seconds, the tool will provide you with a pool of keyword suggestions.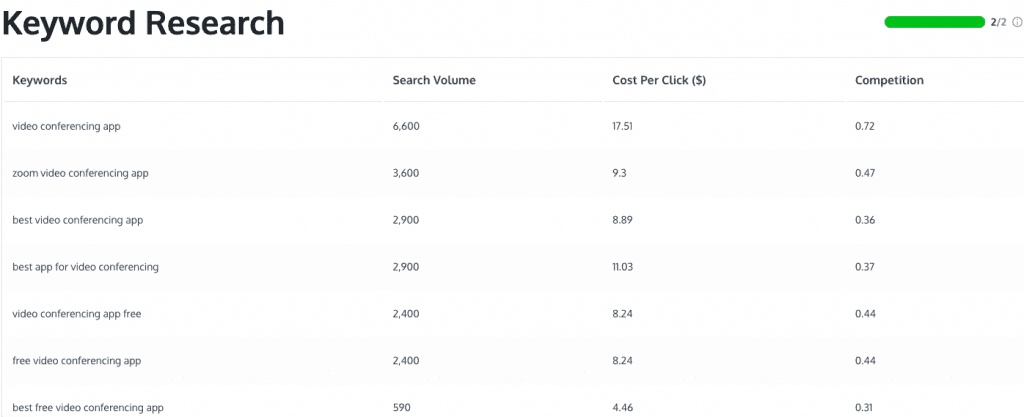 Based on your campaign goals, you can filter keywords.
For a PPC ad campaign, you can select keywords with the highest CPC you're willing to pay and scroll down the list for worthwhile options.
Whereas for SEO, you can go for keywords with high search volume and low competition.
Generally, you should target long-tail keywords in your first digital marketing campaign.
6. Develop An Email Marketing Strategy
A good email marketing strategy must undoubtedly be a part of your first digital marketing campaign. It can help you attract more eyeballs to your business.
Once you have a list of potential customers, you can send them marketing emails.
These emails can inform them about:
Your newly launches products or services
Your upcoming offers or discounts
Your latest blog posts, etc.
So, when you have something new every time for your target audience, you can keep them in the loop.
To push marketing emails, you need to build an email list. And, there are many ways to do it:
Creating a new account on your website
Subscribing to your monthly newsletter
Purchasing a product or service from you, etc.
Your ultimate goal should be to collect as many emails as possible.
Here's an idea to create a tempting email sign-up offer.
You can replicate the same for your business or come up with better ideas.
But, don't miss out on any opportunity to build an email list. The longer the list, the more effective your first digital marketing campaign with emails would be!
7. Create SEO Optimized Blogs
Having a blog on your website, either as a subdomain or separately, is important for digitally marketing your business.
It is recommended to include running a blog in your first digital marketing strategy because it is easy and gives good results.
And it is relatively simple to set up from a technological sense. Most website systems provide a blog option that you can easily activate.
It may seem trivial, but it can be a game-changer for your business's growth and profits.
A solid blog post may boost your search rankings, enhance audience engagement, and get you more conversions.
So, you must focus on creating SEO-optimized blog posts. For that, you need to focus on the following components:
URLs
Headings
Meta Descriptions
Title Tags
Make it a habit to check your blogs before publishing them. All the SEO parameters must be on-point before your blog goes live.
8. Leverage Social Media
The success or failure of any digital marketing campaign may ultimately be determined by your ability to use social media successfully.
It is a significant marketing tool in and of itself, and also supports many other facets of digital marketing.
Here's how you can get started with social media:
Create profiles on various platforms
Optimize your profiles with terms related to your business
Strategize and plan a content calendar for every platform
Maintain a consistent posting schedule
In this way, you will build a great social media presence and market your products and services organically.
For your first digital marketing campaign, you can explore the options available on various platforms.

Accordingly, you can decide whether you want to run advertisements or not, or if you should use specific features for your business.
With time, using social media for your digital marketing will become easy.
Conclusion
There you have it: a step-by-step guide to create your first digital marketing campaign.

It should be a mix of all so that you can gauge which one should be dropped or preferred more in the future.
What challenges are you facing with your digital marketing campaign? How is your target audience responding to it? Do let us know in the comments.