It seems like everyone has a 'side hustle' these days! Well, perhaps not everyone but go into any typical office in the U.K. at the moment and you'll find more and a couple of staff members will have something extracurricular going on to earn money outside of their normal working hours.
It's not surprising really with incomes stagnating and many employees feeling less well off than they were just a few years ago.
The "side hustle" has become a buzz word for generating additional income, often done in the evenings or weekend thus allowing the hustler to earn their normal income during the regular working week and an additional income the rest of the time. Hence the name 'side hustle'.
Quite often the 'side hustle' is born from an interest, hobby or skill that isn't already being used as part of the normal employment. For example, a nurse or office worker who enjoys painting or photography may start selling their work on a website such as etsy.com and, in some cases, can build that income to a point where they can afford to give up their main job and do their 'side hustle' full time.
A good side hustle can indeed become a full-time income earner generating significant incomes for the business owner.
But, what if you don't have a particularly valuable hobby or artistic skill to exploit financially? What if you want/need that additional income stream but your craft experience is limited to making raffia table mats in school 30 years ago? The good news is, there are many ways of making money outside of your normal job where you don't have to rely on any dormant artistic skills.
Arbitrage is the buying and selling of commodities or in this case, products, and in many cases you may not even purchase the item you're selling until you've already sold it and taken the payment from the customer. So it's a great way to get into a side hustle without a huge initial investment in money or time to develop a product. You can simply find a product that customers want and source it from a reliable supplier, making a profit from the mark-up you apply to the product.
This way of running a business is sometimes also referred to as Drop shipping. Drop shipping differs from Arbitrage in that with Drop shipping you usually have an arrangement with a small number of suppliers who stock and fulfil the orders for you thus you never have to handle any orders – just the money and the marketing.
Get the product mix and your marketing channels right and these side lines can become a serious business.
Popular websites that retail arbitragers use to market their products are Etsy.com, Amazon.com and Ebay.com. In the U.K. alone, over 80,000 new sellers have joined Amazon, many of which will be independent resellers carrying out some form of arbitrage.
Amazon allows any one to create a retail account and start selling and will even fulfil the order for you if you pre-purchase the goods and send them to your nearest Amazon warehouse to store until they're sold. It's all done automatically, all that's required from you is to purchase the goods, add the product descriptions on Amazon, forward them to the warehouse and then answer any enquiries that you may get from prospective customers.
Where to source the stock for your business?
Which ever way you decide to sell your products, you're going to need a reliable source of those products. Luckily, there are many places where you can find products to sell – you can even buy items from Tesco and still earn a profit on Amazon if you look out for the special offers. But, if you're looking for a source of regularly low cost unusual products you can begin your search on sites like Alibaba.com and the one I'm focusing on today, Wish.com. These two sites have become behemoths in the area of cheap, non-brand goods manufactured mainly in China and sold direct to consumer. They both allow manufacturers to sell direct so cutting out the middle-man and thus offering their goods are remarkably low prices.
Now, it's true that both sites have been accused of selling low quality items and in a few cases ripping off customers but they're both working hard to tackle these issues and in my experience of buying from both I can say that for the most part the quality and service has been adequate.
So, I present # ideas for products you can find on Wish.com that could form the core of your new side hustle business. It's certainly not an exhaustive list but for less than £1000 you could start a profitable business and hopefully the following suggestions will give you some ideas to help you.
Start a drop shipping business
The obvious place to start is with a basic retail business but with any business, I always recommend you find a need in a niche before you find the product you want to sell. It's tempting to find a product – let's say you love Watches – build an ecommerce website, start marketing and hope that you'll find your audience eventually and they'll start buying from you. However, this approach requires a huge amount of luck as you'll spend a lot of money up front without really knowing if you have a market for your products.
A far better approach is to find your audience first. Build a community of watch enthusiasts on Facebook using the Group function or Instagram for example. Grow that audience by posting interesting articles and information about watches and then, when you have a critical mass of members, start introducing products for sale. You may even find that you don't need your own website in the future as Facebook and Instagram are introducing their own checkout service that will allow you to sell direct from your account.
When looking for potential products, think about the things that people desire but will be small enough to deliver cheaply and quickly such as Watches, Jewellery, Lingerie, or beauty products. But it's also worth looking at markets aimed at hobbies, such as woodworking tools, watch repair kits, fishing, or painting.
Start a rental business
Rental is a great business model for side hustles as once the item has been delivered by you to the customer or picked up by the customer it generates regular income for little effort – the longer the item is rented for the more money you make.
When looking for a potential products to rent out to customers it helps to find something that people would love to own but can't afford to buy it outright or it may take up too much room to have permanently at home or is just so unusual that they wouldn't ever think of owning it themselves.
Here I present a few ideas to get you started and inspire your own ideas for your new side hustle.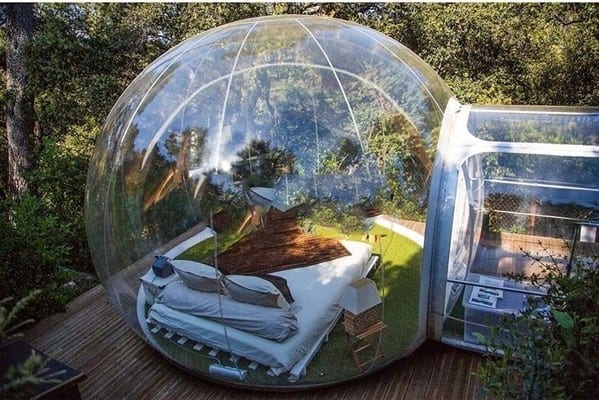 This unusual clear dome tent could be a fantastic addition to a garden this summer but it's not something that many people would buy for themselves. Renting it to customers at a low fee for a garden party or even a few weeks in the summer could be a great way for customers to have something fun in their garden and a great income earner for you. It would certainly give the Jones' next door something to talk about if it popped up in my garden.
You could also rent these out to local pubs, hotels or country houses for their gardens or for events. They could even generate their own income from them by sub-renting them to their patrons. A country hotel could offer them as extraordinary sleeping options perhaps.
There's a few sellers on Wish.com offering these at the moment and currently they're reduced in price from £6,020 to £667.
Wish.com have many other rent-able items you could use to rent out including, fun corporate games, inflatable pool toys, or promotional items such as these tall wavy people or large party tents.
Corporate entertainment
Fun promotional items
Large party tents
Pool toys or other garden entertainment
Become an event photographer
I completely understand that being a good photographer requires thousands of hours of practice and a creative eye and that good, portrait and landscape photography is not something that should be sold cheaply so I'm not suggesting that you become one of those.
However, there is an area of photography that doesn't require a great deal of technical or artistic skill where you can earn a decent income and works well as a side hustle around you existing job. Event photography.
Now, i'm not talking about the photographer that moves around an event taking interesting shots of people networking for a business event. I'm talking about the growing trend of having a fun, photo in a box type service where drunk mates pile into a photo booth and come away with photos of themselves wearing sombreros or holding signs that say "i'm with stupid".
Wish.com have a number of options for this type of business. You can find all kinds of props for the photos. You can even buy a low cost DSLR camera if you don't want to risk an expensive branded camera at a drunken event.




Start a subscription service
Subscription based services have boomed in popularity over the last 10 years to a point where you can get anything you want on subscription from movies (Amazon Prime and Netflix for example) to shavers (Harrys and Dollar Shave Club are just two) and much much more.
From a business perspective, it makes total sense. You get a regular income from all those monthly payments and your marketing costs decrease over time as you need less and less subscribers to sign up (as long as you're good at keeping your customers signed up).Take a moment to think about all the subscriptions you're paying for these days compared to just a few years ago. I bet you'll find a few payments coming from your bank account each month.
When it comes to subscriptions, customers are attracted to things they desire or are looking for you to reduce the pain or aggravation in their lives in some way so look for products that people love to collect (such as items as watches or trainers) or things we all need to replace every month (for example shavers or other consumables). You could even look to industry as potential customers – providing businesses with regular deliveries of things they need such as consumables again (paper, stationery, cleaning supplies etc) or how about a monthly gift box for their employee of the month?
Below I've collected just a few products from Wish.com that could form the basis of your new subscription service. Each one could be a service in it's own right, but you could combine some to create a new service…
There are thousands of potential products that you could offer as a subscription service and many ways you could combine multiple products into new and interesting subscriptions that means you'll never run out of business opportunities but just remember that Wish is designed for selling one item at a time so you may want to negotiate with the manufacturers directly to get even better prices and lower shipping costs (although, don't forget import duty).
Hopefully the above ideas will give you some inspiration for your new side hustle business. I would love to hear about what side hustles you have on the go at the moment or what you are thinking of starting up so let me know in the comment section below this article. What ever endeavour you are undertaking I hope it's successful.