Ever wanted to build and run your own online business?
With the internet, you can.
Tools, learning resources, manpower — everything you need to start an online business from the ground up is within your reach. Your only problem now is identifying which path to take and what components will help you accomplish your objectives.
In this post, we'll discuss the top six low-cost strategies that will help you make money online.
Just a word of caution, though: None of the strategies you're about to learn are get-rich-quick schemes. Every single step in this guide will require your utmost commitment, determination, and grit.
With that out of the way, let's get into it.
1. Piggyback Existing Platforms
The most straightforward way to earn your first dollars online is to sell something through existing platforms.
You can always start with items you already have to essentially eliminate risks. Sure, you probably won't build a million-dollar business this way, but it's a great way to get your feet wet and build a name in the e-commerce industry.
eBay is one of the major e-commerce platforms you can piggyback to sell products online. They also offer low entry fees, which is perfect for solopreneurs who don't sell in volume.
Other than eBay, you can also sell products on social media networks like Facebook. There are also sites like Tradesy, Cars.com, Vinted, and Gazelle where you can sell a specific type of product to customers who are looking for them — from secondhand clothing to mobile devices.
2. Start a Dropshipping Online Store
Once you've gotten a taste of online selling and would like to take the next step, you may want to consider starting a dropshipping store.
Unlike a full-on e-commerce store, a dropshipping store doesn't require you to purchase inventory, own a warehouse, and package the products yourself. It's a retail fulfillment method with a low barrier to entry and a high ceiling in terms of revenue.
The biggest challenge, however, is finding a dropshipping supplier you can trust.
Remember, most of the issues in a fulfillment setup are caused by an incompetent supplier. Here is a simple checklist that will help you find the right supplier for your dropshipping business:
Knowledge of dropshipping

Strong returns, refunds, and dispute resolution policies

Ideal shipping times for your target location

Offers custom white labeling
3. Learn the Fundamentals of Digital Marketing
While it won't directly lead to profits, learning online marketing is an absolute must-have if you want to succeed in digital marketing.
Although digital marketing for small online businesses warrants a full-length blog post itself, most of its aspects depend on one thing: quality content.
It doesn't matter if you're planning a newsletter campaign or trying to win audiences on social media. In order to send the right message and draw in the right crowd, you need to publish high-quality content that tackles relevant topics.
How to identify topics that will pique your audience's interest? A keyword research tool like LongTailPro helps by generating long-tail variations from seed keywords.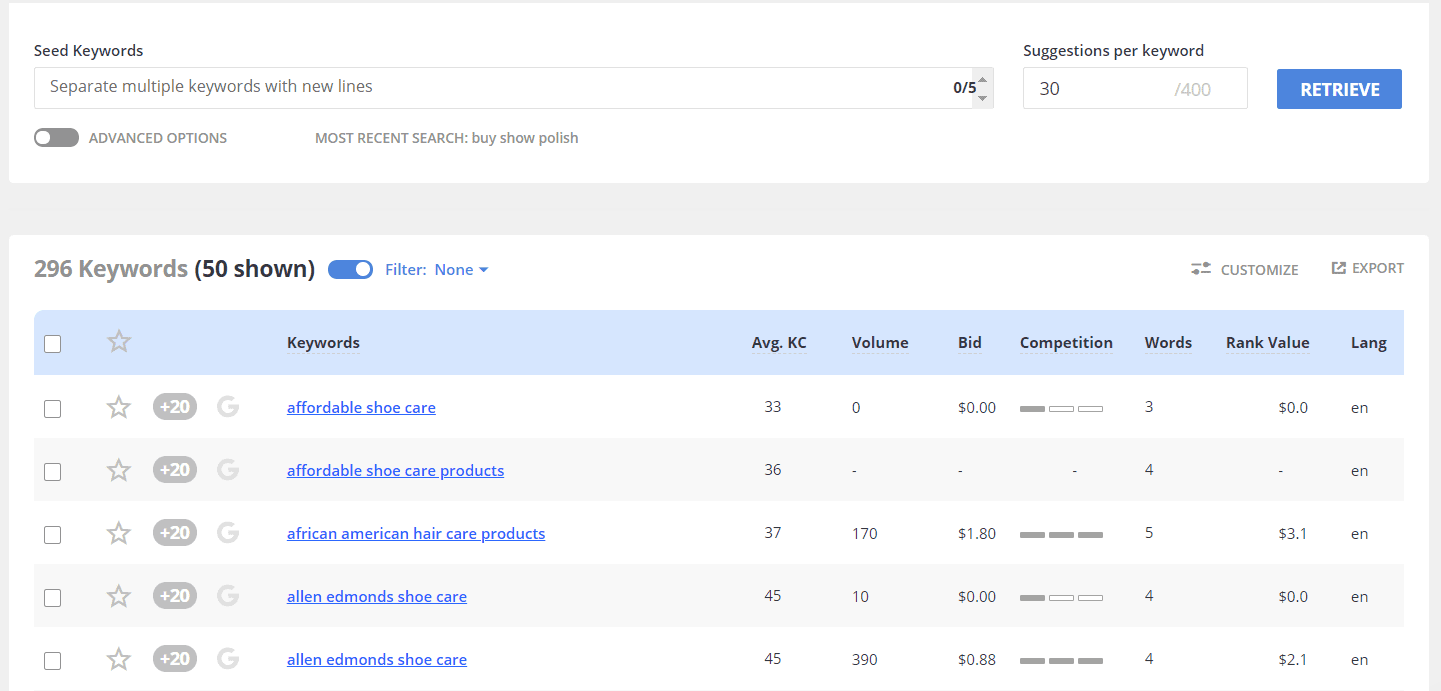 Long-tail keywords reflect the way users search the internet, which is why they're so effective if you want to get visitors who could be ready to make a purchase.
4. Build a Freelancing Brand
If you have a creative skill that can help other businesses accomplish their objectives, you can offer your services on freelancing marketplaces.
Freelancing is perhaps the most reliable way to make money online. Unlike the rest of the strategies in this post, freelancing is the one where the amount of money you earn is directly proportional to the effort you exert — unless, of course, if you take into account the possibility of being underpaid on your first few projects.
The good news is, anyone is capable of earning more as a freelancer as long as they focus on building their personal brand. It may sound like a long shot if you have no experience, but it's more than doable if you're set on improving your skills and standing out in the market.  
Here is a short list of tips that will help you build your freelancing brand and attract higher-paying clients in the future:
Create a portfolio of your best work

Request clients to write testimonials

Identify and market your specializations

Profile and seek your ideal clients

Build a presence in professional networks like LinkedIn
5. Write a Blog
Speaking of building a brand, nothing comes close to an official blog when it comes to establishing an authority in your niche.
Blogging will enable you to showcase your expertise to your target audience and generate leads. Once you get a steady stream of traffic, you can explore other monetization options like display advertising, writing sponsored posts, and affiliate marketing.
It should be easy to find a platform you can use to build your own blog. WordPress, for example, offers a host of themes and plugins that will help you build a professional-looking website from the ground up without writing a single line of code.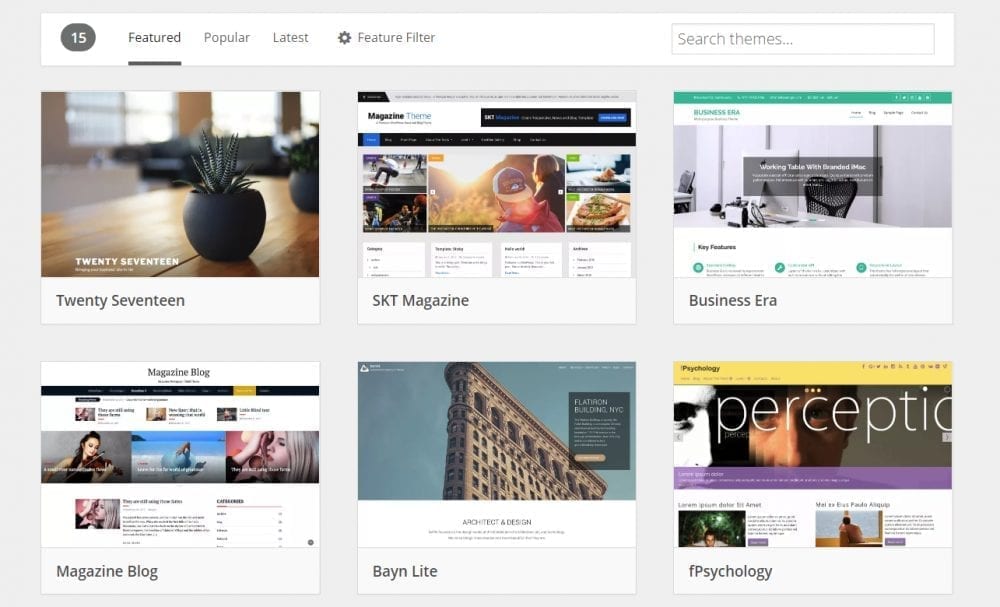 When it comes to your blog content, an excellent starting point would be content research tools like BuzzSumo and Ahref's Content Explorer. These will help you reveal content opportunities based on the popularity of topics along with the best formats to present them.
6. Start a YouTube Channel
Running a profitable YouTube channel requires a very specific skill set that includes video editing, communication, and content research. You can outsource all of these skills if you want, but it'll be difficult to compete on a budget if you're not capable yourself.
On top of creating your video content, you need to develop a YouTube marketing strategy that will help you grow your channel's viewership and rise above competitors. You also need knowledge of the revenue model on YouTube, which is pretty much tied to the Google AdSense program.
Here's a tip: given the competitiveness of the YouTube platform, you should expect a slow start in your first few months as a YouTube channel. But if you can position yourself as an influencer in your industry, you will be able to realize the true potential of your YouTube channel — that's when you can earn money via sponsorships, branded merchandise, and through services like Patreon.
Prepare to Win
Last but not the least, you need business acumen if you want your online endeavor to be sustainable.
One doesn't simply start an online business from scratch without preparing for a lifetime of learning, growth, and self-reliance. Count on nobody but yourself and work your way from one milestone to the next.
Do you have tips or suggestions regarding the post above? If so, feel free to leave a comment below and discuss!