Well-thought-out and compelling content can do wonders for your website traffic and conversion rates.

However, if you want to generate high-quality website traffic and gain some serious profit, you'll need to create more than one content type to optimize your marketing efforts.
If you're not sure what content types to start with, we're here to give you a hand.

This guide covers the five content formats and types you can leverage to drive traffic to your website and win more customers.
1. Videos
Videos are excellent content types to include in your marketing strategies because they're easy to digest.

You can use videos to educate, entertain, evoke emotions, and more, making them great channels for engaging your audiences and drawing them to your site and Calls-to-Action (CTAs).
Many audiences also prefer videos because:
Videos are easier and more entertaining to consume than long blocks of texts, allowing audiences to retain information better.
Videos can be more interactive with their combination of visual elements and sounds.
Videos are highly shareable, which can help widen your reach, drive more traffic, and increase your opportunities to convert more audiences into paying customers.
While planning and creating videos can take a lot of time and effort, you can streamline the process using powerful project management software.
For instance, monday.com offers an editorial calendar template you can customize with your team to plan, organize, and schedule your marketing video projects.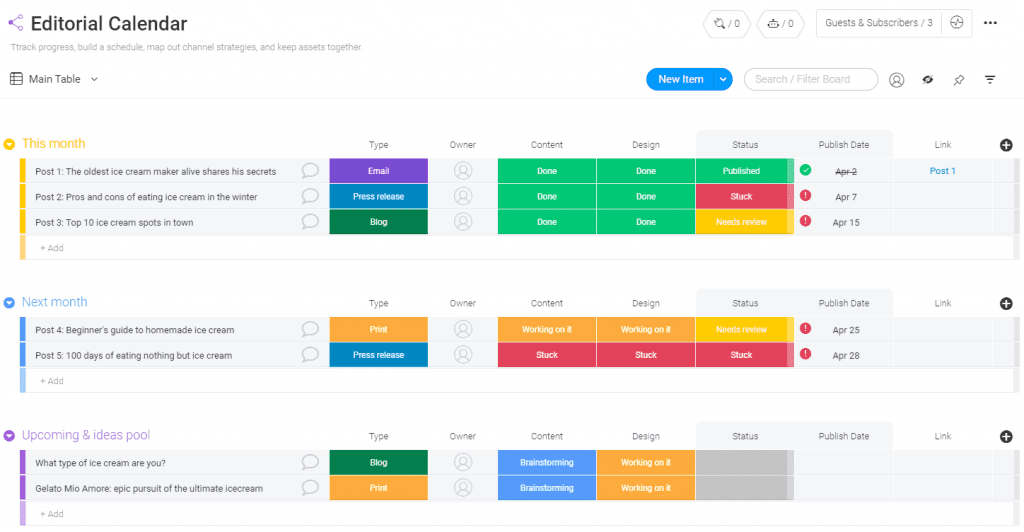 The tool lets you map out your marketing video campaigns and collaborate with your team members. It helps you avoid missing deadlines, track your projects' progress, and work more efficiently.
2. Knowledge bases and FAQs
Knowledge bases and Frequently Asked Questions (FAQs) pages are great ways to provide valuable content to your readers while assisting them.
For instance, FAQs can help your audience get quick answers to common queries without waiting to talk to your customer service reps. Your visitors can help themselves easily while learning more about your products and services.

You can provide highly-relevant content that can solve your audiences' problems while offering seamless customer experiences. It can help you draw people to your website and encourage conversions and purchases.
Consider the following tips when creating your FAQ pages and knowledge bases.
Make your knowledge base articles skimmable. Avoid intimidating your readers with walls of texts and making them jump through hoops to find the solutions they want. Doing so can frustrate visitors, ruining the user experience and causing them to leave.
Use callouts, headers, spacing, bullet points, and visual elements to highlight crucial information. Ensure the complete set of instructions is visible at a glance so visitors can find it quickly.
Ensure your content is easy to read. Your knowledge base and FAQs should make it easy for your audience to find quick and easy help so ensure your content isn't too complex or complicated to read.
Some of the widely-used customer service software, such as LiveAgent, offer knowledge base and FAQ templates you can easily customize to create your content quickly.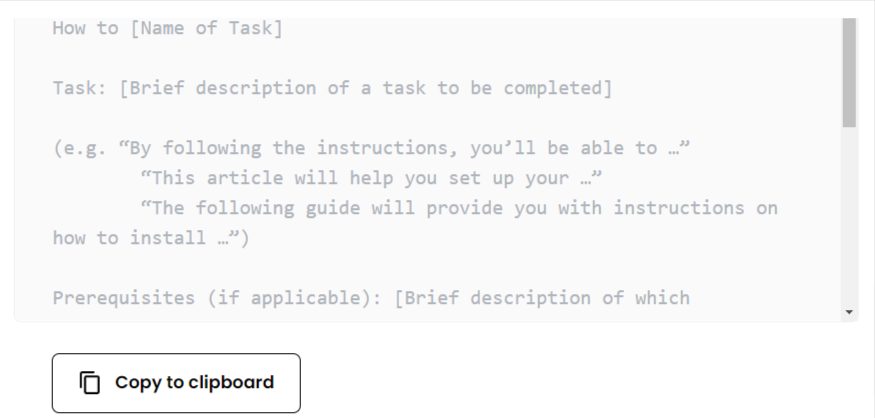 Ensure the content you create to help visitors is engaging, straightforward, and addresses how and why customers search for help.
3. Success stories and case studies
Case studies and success stories are excellent content types to use for your marketing efforts because they can serve as comprehensive testimonials for your products and services.
Plus, sharing how customers found success with your product's help in a story format can be more interesting and compelling for readers than sharing facts and figures.
Leverage customer success stories and case studies to:
Help guide your prospects across the buyer's journey
Position your business as a leader in your industry
Provide power social proof to your target audiences
Educate your potential customers on your product's or service's value and benefits, such as how purchasing well-written articles can help them double their traffic
Consider the following tips when creating case studies and success stories.
Include both successes and failures. Talking about successes and failures makes your content more relatable and engaging for audiences. Highlight the journey and how customers overcame past failures with your products' and services' help.
Focus on your customers. Make your case study about your customers and their success instead of your brand, products, or services. While you can highlight your product's role in your customer's success, focus on your client's journey, or your case studies can sound too promotional and turn off potential buyers.
4. How to guides
Publishing content that helps your audience do or accomplish something is an excellent way to draw traffic to your ecommerce website.

Consider these useful tips to help you create compelling and traffic-generating how-to guides.
Ensure your content solves a problem or fills your target audience's needs. Create comprehensive, actionable how-to guides that help your readers solve their problems and address their pain points.
For example, if your target audiences are newbie marketers, startup business owners, and solopreneurs, you can publish an in-depth guide on how to conduct keyword research for Search Engine Optimisation (SEO).
Break up long-form content. How-to guides can get long and complicated, so break up your content. Doing so helps avoid boring or overwhelming your audience. Include quotes, checklists, bullet points, and visual elements to break up large chunks of texts and make your content easier to consume.
5. Listicles
Content in list form is easier to read than long paragraphs and huge walls of texts. It also helps improve your content's readability, allowing readers to retain the information more effectively.
That said, the easier it is to read your content and uncover its value, the higher your chances of attracting people to your website and getting them to stick.
Leverage listicles to organize your content into shorter, bite-sized sections. A listicle format makes it easy for readers to skim through your blog post or article and get the general idea at a glance.
Your audiences can quickly determine whether your content can solve their problem, improving the user experience and increasing conversion opportunities.
Additionally, use catchy headlines to grab your audience's attention quickly while giving your audiences a good idea about your content.
Use the Sharethrough Headline Analyzer tool to create compelling headlines.
A great listicle headline can convince your website visitors to click and read your content and, in turn, help you convert them into customers.
Use the right content types to drive traffic and sales
Creating multiple content types can take tons of time and energy, but all this can be more than worth your investment.
Make the most of the tips in this guide to help you create content that can drive your website traffic and conversions through the roof.