Do you want to create traffic-generating website content?

You're not alone.
According to HubSpot, web traffic is one of the most common indicators of successful content marketing.
The statistic highlights how producing valuable content can get more people to your website, increasing your engagement, conversions, and sales opportunities.
Essentially, generating quality traffic is one of the reasons why unique content is important in digital marketing.
While you can create countless content pieces depending on your marketing campaigns, audience groups, and products, start with the types that are known to draw the right crowd.

Jumpstart your initiatives with the five content types below.
Let's dive in.
1. How-to articles
How-to blog posts and articles are great because they offer value to your readers from the get-go.
How-to content also has great long-tail search potential (for SEO purposes) because of its popular introductions that are common in long-tail queries.
For example, you could publish a blog post on How to Buy SEO articles to draw visitors to your web page while promoting your SEO services.
Remember these essential aspects when creating how-to articles:
Identify a common problem among your target audiences and introduce it in your content. Make your opening statement punchy and compelling while addressing your readers' pain points.
Provide a short introduction to your solution.
Discuss each step or part of the solution. Keep each section simple, conversational, and meaty.
Summarize your article or blog post, highlighting its key points.
Include a conclusion that rounds up your content nicely.
Also, consider the following factors to create compelling how-to articles.
While there are numerous how-to blog post topics, start with those relevant to your target audience, industry, and business.
Use content research tools such as Buzzsumo to see the current "buzz" around specific topics, including engagement data.
Buzzsumo can help you discover trending stories, new keywords, content success, and customer queries to shape and inform your content (and strategy).
Add videos, diagrams, images, and other visual elements to help enhance your how-to articles and reinforce your content's main messages.
Leverage how-to blog posts to share valuable content with your readers and get more people to visit your website.
2. Listicles
Listicles or list posts can generate traffic and boost your audience engagement with your website content.
Why? Because listicles are value-packed, easy to digest, and highly shareable content pieces.
List posts are popular because they tell people what to expect, such as the Ten Best Security Testing Tools article from qalead.com below.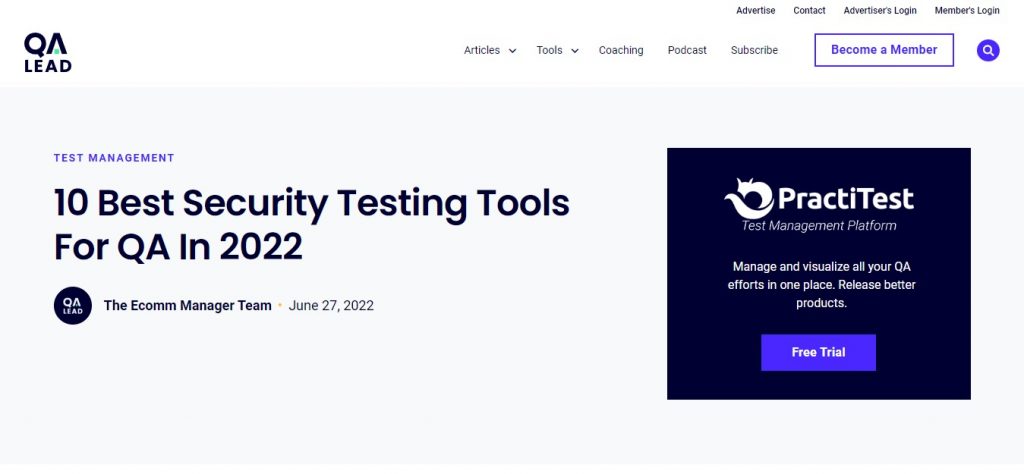 Listicles have the simplest content structure, making it easier for readers to quickly scan and skim through your content to find what they want quickly.
Besides providing value, list posts can also improve the user's experience, which is always great for generating traffic and engagement.
Some of the best topics to create listicles about include:
Tips and tricks
Tools
Strategies
Events
Locations
Pros and cons
Other topics that might interest your potential customers
Mix up positive and negative topics, such as "The Top X Tips to Get Discounts From Online Stores" and "X Worst Mistakes to Make as a First Time Online Shopper."
List posts don't have to be too long to be relevant, as long as your content is concise, valuable, and doesn't leave your readers hanging.
3. Infographics
Infographics are great for presenting and summarizing long-form and technical information as visual content.
Plus, infographics are easy to consume and share, making them more engaging and attractive than plain old text.
Create infographics to communicate ideas or concepts, such as statistics, survey results, and other relevant data.
Keep these tips in mind to create compelling and traffic-generating infographics.
Make your infographic stand out by turning it into a Gifographic (GIF+infographic). Animated GIFs instead of static images and visual elements can make your content more interactive and engaging.
Work with a reliable graphic designer to create eye-catching infographics. If you don't have the budget but have the time and energy, use graphic design tools such as Canva.
The tool has thousands of beautiful, customizable infographic templates and design tools, so you won't need to create your content from scratch.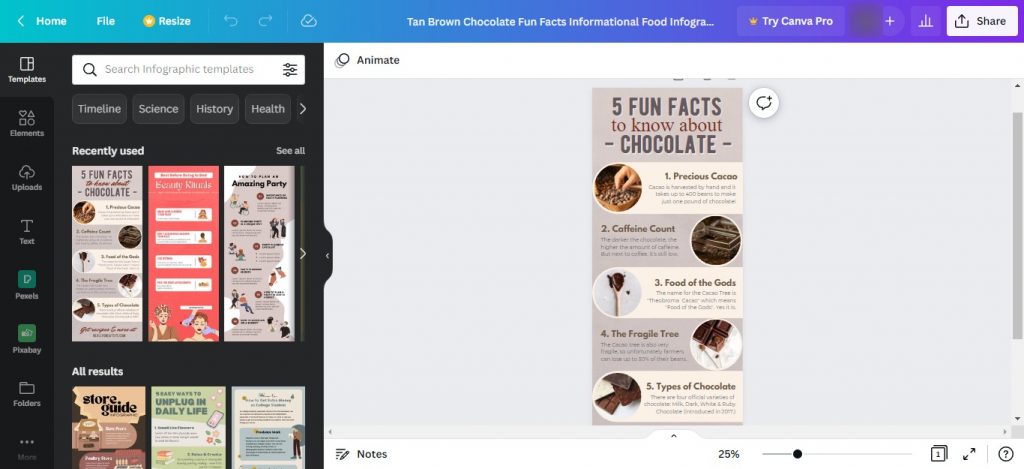 Avoid common mistakes when creating infographics, such as overcrowding your content with too many visual elements and using jargon and overly technical terms.
Design your infographic to be clean, concise, easy to read, visually pleasing, and valuable to readers.
A well-designed infographic has the potential to go viral, drawing more eyeballs to your content and traffic to your website.
4. Videos
Videos are always crowd-pleasers because they are often more creative, interactive, and engaging than images and text-based content.
Ensure your blog post and other website videos convey your key message to your visitors, whether you want to educate, entertain, engage, or promote your offers and products.
Videos are also highly shareable, helping you reach more audiences and drive more traffic.
Learn from these quick tips to create compelling videos.
Include relevant keywords in your video description. Add a link to your website if you share or publish the video on other channels, such as YouTube.
Keywords can also quickly tell viewers what your video is about while making it more discoverable.
Entice your viewers and website visitors to watch your videos with high-quality, engaging, and captivating thumbnails. Eye-catching thumbnails work well with food videos.
For example, kitchenware and home furnishing retail company, Williams Sonoma, embed YouTube videos of Ina Garten's recipes on its website.
The thumbnails of the delectable finished products can be more than reason enough for viewers to click and watch the videos.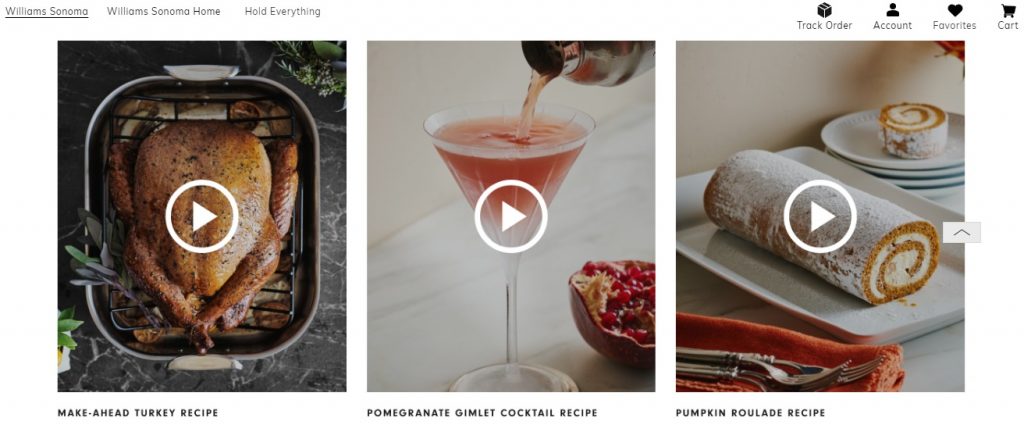 Create short, catchy, and informational video titles to capture your audience's attention. It can also tell your viewers instantly whether your content benefits them.
Additionally, cross-promote your videos across your website, social media platforms, and other marketing channels.
It can get more people to watch your videos, allowing you to lead them back to your website.
5. Guides
Create comprehensive or quick guides that share helpful tips with your website visitors and potential customers.
Think of guides as a blog post's taller and wiser cousin that goes beyond typical website articles' style, approach, or length.
When done right, your published guides can be one of your most popular content pieces, which is always good for generating traffic.
Create top-quality guides with these tips:
Make your guides skimmable and scannable since they can be longer than typical blog posts. Doing so makes it easier for readers to quickly find the section or content they want.
Break up your guide's content with appropriate subheadings. Include relevant images and other visual elements to make your guide easier to read and comprehend.
Use your guides to capture leads. For instance, you can leverage your guide as gated content that requires readers to share their email addresses to read the entire piece.

Don't forget to optimize your guides (like your blog posts and other content) for organic search.
It can help boost your content's visibility and raise your web page's ranking on Search Engine Results Pages (SERPs).
Drive more traffic with awesome content
Generate tons of traffic with high-quality, relevant, and optimized website content.
Get inspiration from this guide's tips and create more content types as you continue to expand and improve your strategies.