If you google "Fitness Clubs near me," in New York City, this location map will pop up at the top of your screen.
Unsurprisingly, most of these franchises out of the twenty-some options are recognisable, like Equinox and Synergy, to the average gym-attendee. This image alone reveals a few things:
what the most popular gym chains are in NYC,

where these gyms are strategically located through different boroughs

the rough distance between several fitness competitors.
However, if you google "Equinox in New York City", this location map will pop up: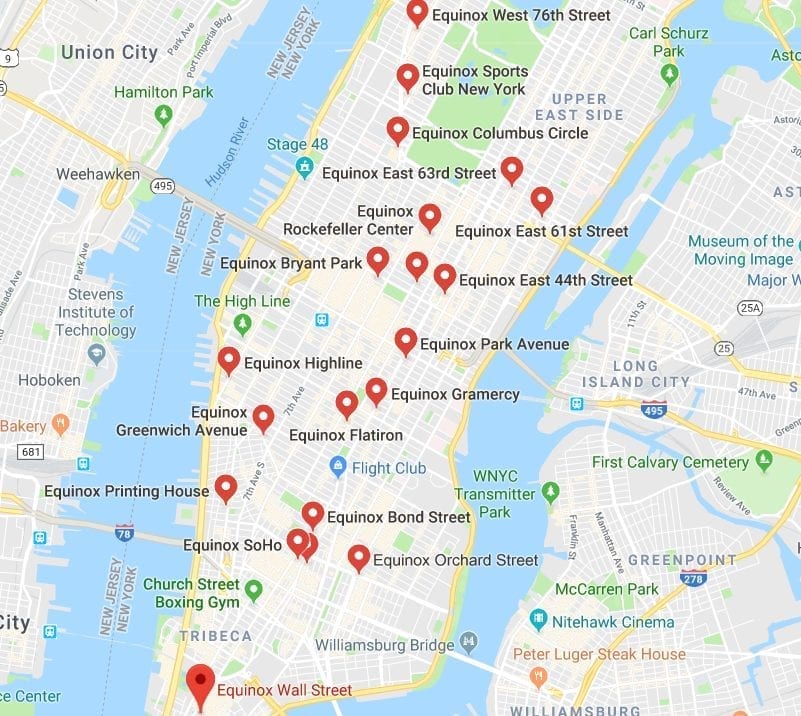 You will then realise that even though the first map revealed some of the most popular gym locations, it does not come close to showing the extent of gyms available within a smaller area. Within 7 miles (10 kilometers) alone, Equinox has over twenty locations packed between the Wall Street location and the furthest north location at 76th Street. Within those 7 miles, it might be difficult for you to avoid walking into an Equinox.
Then, consider this: If you zoom in on one or any of those Equinox locations, you will see that every location is surrounded on all sides by at least twenty other brand fitness clubs.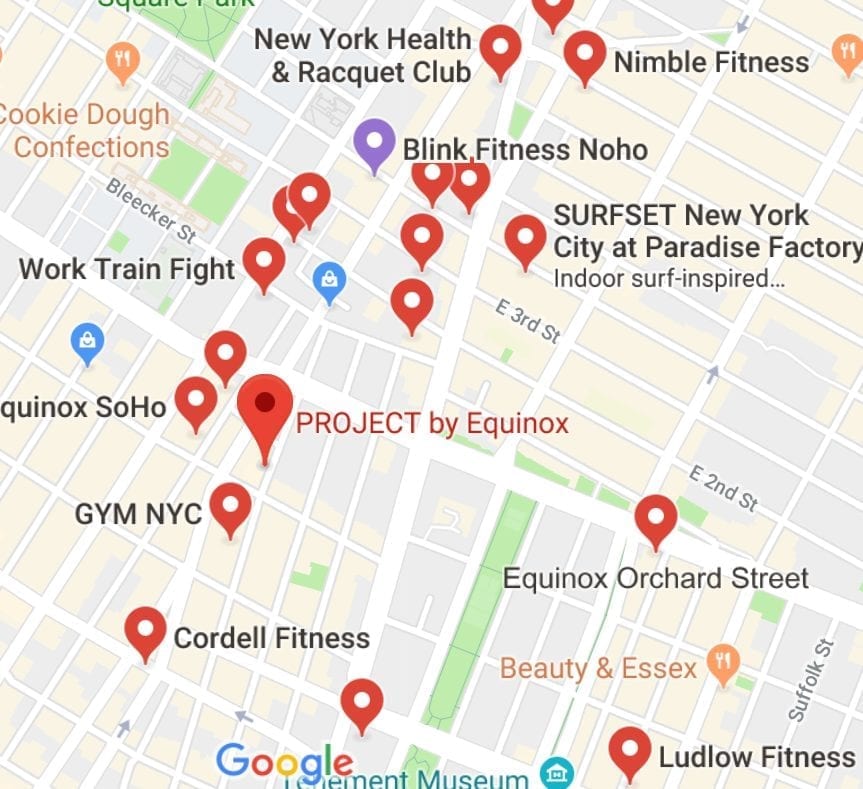 What's the point? I have one, I promise.
This visibly exponential rise in gym locations showcases the current power of the industry. Fitness is a new, extensive and highly profitable business venture that shows no sign of slowing down any time soon,   
As the fitness and wellness industry has proliferated over the last decade, the number of fitness clubs has risen proportionately to match the public interest.  This has ushered in an era of more gym attendees than ever before, and accordingly more types of fitness clubs than ever before. Gym owners are now faced with the incredibly daunting task of appealing to new customers in this highly saturated market while still prioritising providing the best experience and services possible for their current members.
As is the case in many industries, traditional marketing campaigns are becoming antiquated. Not necessarily because billboards and handing out fliers are less productive than their digital counterpart (they are), but their efficacy is nearly impossible to monitor. The widespread transition to digital marketing throughout many industries can be credited to how the process can be diligently tracked, and more importantly, altered in order to maximise your efforts to land as many new clients as possible. The underlying mechanics of digital marketing rely on in-depth metrics concerning reach, engagement, and conversions, which are then analysed in order to make the most of your marketing budget to reach your sales goals.
Thus, marketing budgets of all sizes can benefit from knowing an agency is bringing them more bang for their buck. Independent agencies can provide a clear advantage from in-house marketing sources in that they can:
bring a fresh third party perspective to your business objectives

Technical know-how on how to integrate various tools to evaluate campaign initiatives

Extensive and specialised experience in the different marketing channels

logistic approaches to  SEO and paid advertisements.
Fitness clubs now more than ever need to adapt to new-wave marketing measures in order to not only stay relevant within the industry, but to stay in business.
1 Develop a Marketing Strategy
Fitness clubs need to develop a long-term business plan that aligns their club's unique identity with conducive outreach efforts to prospective clients. Since the primary objective is to generate leads on a consistent basis, marketing strategy should extend far past traditional gym promotions like "New Year New Me" or "Get in Shape for Summer." While there is nothing wrong with seasonal campaigns for short spikes in business, overall, marketing strategy should favour longevity.
Branding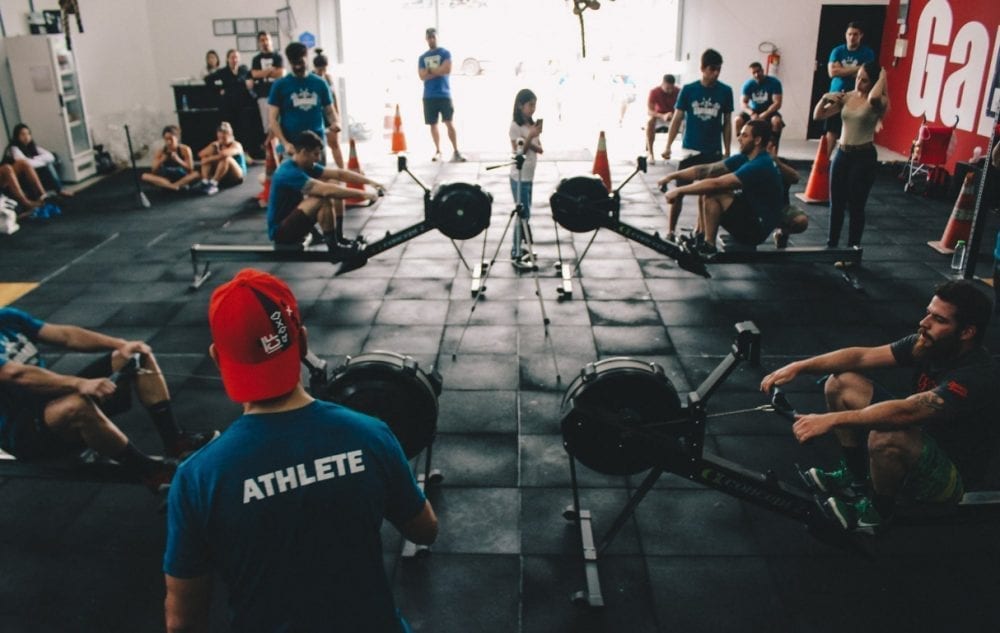 Cultivating brand awareness and a distinct culture is crucial to differentiate a fitness club among the heavy competition within the market. The recent dramatic growth in fitness club numbers has accordingly created more types and styles of fitness clubs than ever before; so what makes your club stand out? What can you offer that other fitness clubs cannot?
Branding is a much more multifaceted process than simply identifying what type of fitness club you are or what services you provide. Consider who your target demographic is, what kind of experience your customers can expect, how you will continue to grow this culture, and most importantly, how will your brand be perceived by public opinion. Since marketing specialists will understand your local landscape and client pull on an expert level, their input in helping you develop and showcase your brand will make people gravitate towards your business. A third party marketing consultant is obviously not going to decide your brand for you, but rather help you present your brand to appeal to the widest base possible within your niche.
Showcasing Your Brand
After establishing your brand, the next step is to become as digitally visible as possible, which is easier said than done. Digital marketing experts will save you time, effort, and stress by taking care of the technical start up every modern business needs, like creating a user friendly website and registering it with Google My Business. They also can determine necessary components your website should have to appeal to your prospective audience, like running a blog, providing client fitness success stories, exercise video series, forums for customer engagement, etc.
2 Optimise Presence on Google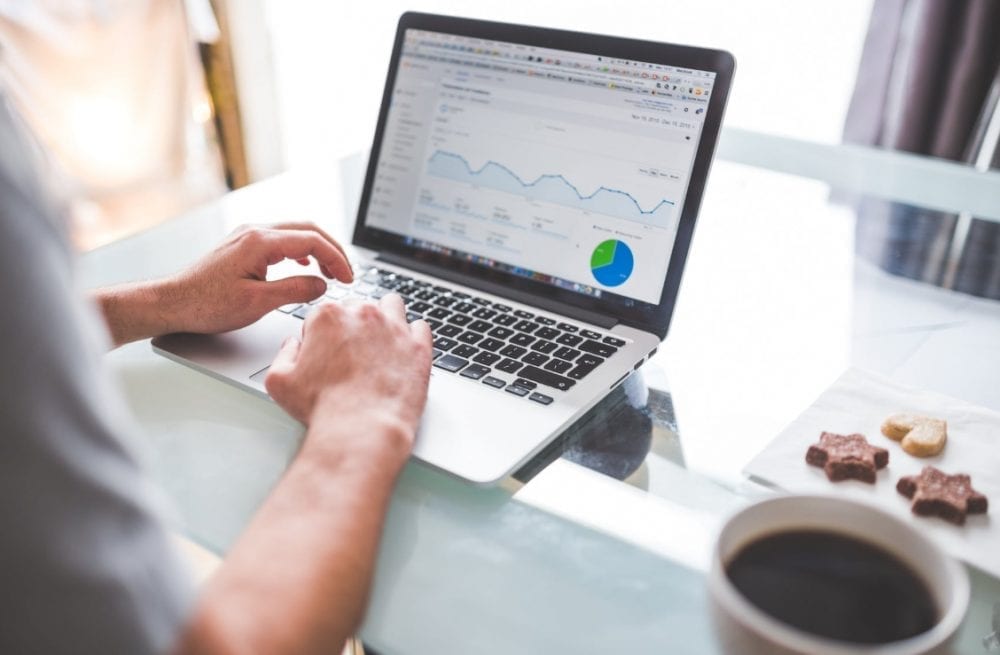 Since Google dominates search traffic, many consumers report that when searching for a local business, Google is their first resource. Fitness clubs are one of the best examples of local businesses because their livelihoods directly depend on proximity. When new customers look for a gym, accessibility is consistently ranked as the most important factor. Since working out is often considered a discretionary activity or even a chore, consumers will prioritise convenience and local access to increase the chances that they can fit exercise into their schedules. Therefore, your local presence on search engines is critical in order to even get your foot in the door with prospective nearby clients.
Search Engine Optimisation (SEO) has become a popular digital marketing tactic for gyms to make their websites rank higher in search results, therefore bolstering business exposure. Using the expertise of agency SEO strategists will not only bring increased traffic and attention to your fitness club, but it will also help you optimise your website's on-page content and carefully crafted landing pages. Testing and tracking the success of landing pages ensures that your advertisements are constantly monitored in order to bring in the highest return possible.
SEO is even more important as it has a significant localisation factor built in that has to be optimised for. Agencies typically have a better grasp on how to rank locally for keywords and build up a local business' presence in the search engines than corporate marketing teams because it has to be done on a granular level.
As your online presence becomes stronger and attracts more visitors, you will be able to use campaign tracking to see how and where potential customers are finding your website. This information can in turn be used to assess which marketing ventures are driving your business, and ultimately provide you with data to plan future business strategies and digital campaigns. Digital marketing's reliance on metrics to gauge success and outputs of your paid advertisements make you advertise smarter instead of relying on intuitive-based campaigns.
3 Paid Campaigns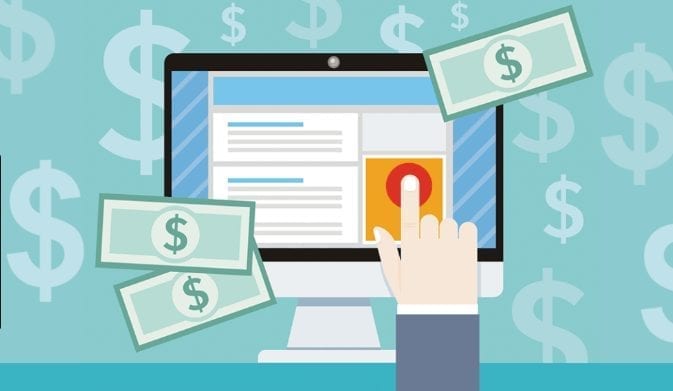 Using Pay Per Click advertising on various platforms like Google, Facebook, and Instagram has proven to be effective, but requires diligent strategy to effectively execute. These advertisements must be geared towards your target audience with varying platforms in mind (Google vs Facebook), use essential key phrases, and implement scalable returns.
Social media channels disseminate advertisements according to complex and constantly evolving data and algorithms. Therefore, understanding this dynamic playing field is crucial to ensuring that your advertising are not only reaching the right audience, but resonating optimally.  Digital marketing agencies specialise in staying up to date with the constant changes made to the platforms, and therefore can devise the best strategies.
4 Social Media Engagement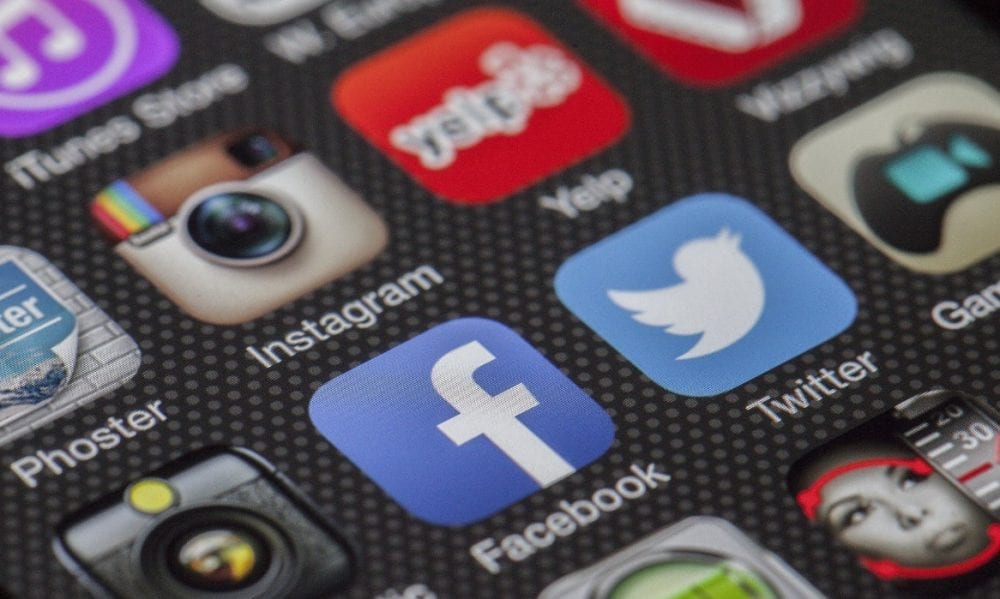 Apart from paid opportunities, social media promotion is indispensable in both attracting new customers and keeping current members engaged. The prevalence of social media has ushered in a new era of unprecedented personalisation and communication between consumers and business owners, which has created a new outlet for outreach and familiarity.
For fitness clubs, this relationship can be advantageous in several ways.
Establishing a strong following and consistent interaction on social media with clients will essentially have your clients market for you…for free. Sharing fitness related posts is already incredibly popular, but factor in incentives for your members to post, like fitness club challenge check-ins, events, or progress pictures, will expose their audiences to your business.

Social media can create a true sense of community. Stemming back to the importance of branding, social media can bring your members together as an inclusive unit rather than recognisable strangers that work out in the same place. This sense of belonging will both retain old members in addition to attracting new ones.

Positive feedback and reviews of your fitness club on social media can directly translate back to interested new customers and generating leads.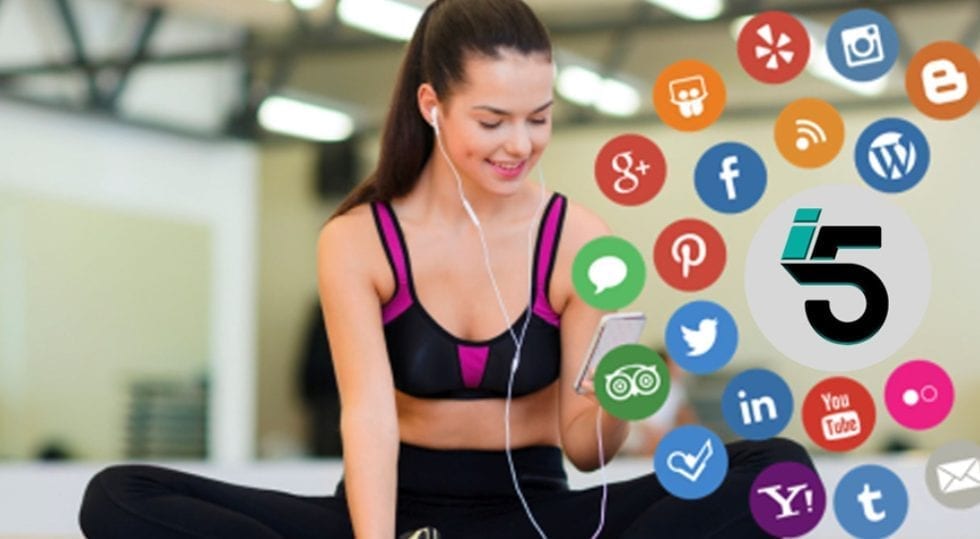 While digital marketing specialists should provide proven methods to grow your online following as well as suggest helpful resources,  club managers should exercise their creative control over social networks. They are simple and low maintenance to manage and will allow you to demonstrate your personal touch that your clients chose your gym in the first place for.
5 Toolsets
As digital transformation is currently happening in the fitness industry, it's vital that fitness clubs have all of their marketing tools and data integrated into a unified club management system.
Clubs have to meet the growing consumer demands with data and insights that close the gap between what the facility projects is necessary and what the customer actually wants.
For example, clubs need to know who their most profitable customers are and where these customers are coming from, digitally speaking. Having Google Analytics set up with your club management system can help tie lifetime value to marketing channels to help optimise campaign initiatives.
Furthermore, using digital marketing to establish a continual pipeline of promising leads is only half the battle before converting these leads into paying clients. One of the most common pitfalls of lead conversion is ensuring that prospective clients are followed-up with as they progress through the sales funnel. Thus, employing a digital marketing agency can instill a succinct CRM process to optimise lead conversion while utilising a uniform and transparent lead allocation system to hold the sales team accountable for specified objectives.
Conclusion
Although fitness clubs have been traditionally not been viewed as competing businesses, new attitudes towards fitness are revitalising their place in business world.  In order to stay on pace with advancements in both technology and consumer habits, gyms and fitness clubs will benefit immensely from employing marketing specialists to keep pace with the evolving world of digital advertising.