Content marketing aims to attract leads and turn them into paying customers. It can be done by publishing engaging, helpful, and entertaining content. Content marketing had become so crucial to businesses that for certain domains the volume of content generated directly relates to a business's success.
Nearly 90% of business-to-consumer and 91% of business-to-business marketers use content marketing. The method can grow your consumer base and financial line. This article explains how to use the most popular content marketing trends to benefit your business.
What Is Content Marketing Strategy?
To meet business goals, one must establish a content strategy that explains how they will use various forms of media (audio, video, or text). A smart content strategy draws top-of-funnel customers and nurtures them through purchasing. It will also engage them after the sale.
Let's pretend that among your company objectives is the task of raising brand recognition. For this, you need SEO writing if you want more people to notice your website in SERPs and buy your products.
New entrepreneurs may assume a content strategy is unnecessary, which isn't right. Achieving long-term success and reaching new audiences generally needs high-quality material. You could be tempted to create your own website and blog in the hopes of saving money.
Any writing that just throws all the key terms at the reader is not enough to earn customers. You get more than just finished blog posts when you hire a professional to manage your content. With a content marketing firm you can tailor marketing strategies to fit your business's needs. The firm holds and specializes in the right tools to enhance income and brand authority in search engines.
Content Marketing Strategies to Improve Your Business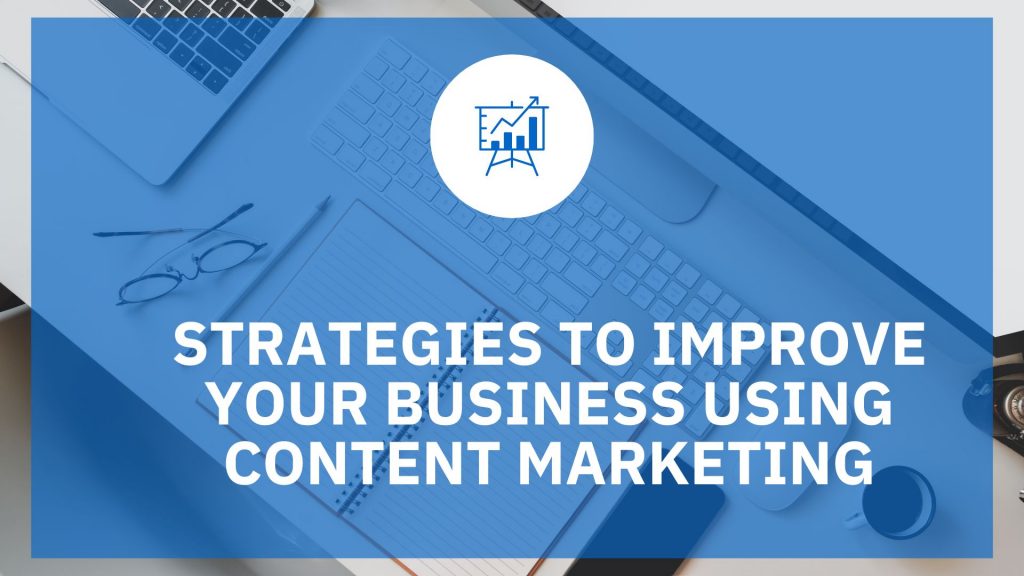 1. Content Marketing Strategy for the Web
The content on your website will deliver the most acceptable return as a marketing approach. Enticing site content can boost relationships, prospects, and revenues. To do this, your text must speak directly to the reader's wants and requirements.
Consider user needs and expectations when creating content for each stage in the content funnel. Web content can be used at every step of the funnel, from bringing in new visitors to convincing them to buy.
2. Blogs
One of the most prevalent ways to publish content online is via blogs. To promote your company, you may use your blog as a platform to provide relevant material.
Before beginning to write, identify your audience. What you write will depend on who you are trying to reach.
Create a broad range of articles. Offer your readers various tools, including guides, lists, and checklists with your blogs.
Here are some tips to give you a head start:
Use Google Analytics to see your pages or posts read the most often.
You can then examine which sorts of postings get the most attention from your audience.
If readers prefer reading lists, put more in your content strategy.
Articles longer than 2,000 words perform better on Google's search engine. The average length of the top-performing articles on Google is slightly over 2,450 words.
3. Videos
Video content marketing has been growing rapidly in popularity recently. Video sharing services like YouTube have made video watching a daily habit for many. In fact, 63% of all Internet users often view videos on YouTube.
As the consumption of online videos rises, more firms use video marketing. 62% of companies are already using video marketing in their content strategy. There will be a greater need for this as the popularity of online videos continues to rise.
When it comes to creating new videos for your brand or service, remember the below:
Video marketing boosts brand exposure by making and distributing videos online. The films you make, like the blog entries you write, should focus on some aspect of your field.
An exciting and high-quality video is a product of hard work, but the payoff is substantial. Readers are more likely to stay on a page with video content.
In Google's eyes, a good indicator is when visitors stick around for a while. Some keywords may rank higher if Google sees people spending longer on your site. It will create increased visibility for your website.
A video may serve several purposes. You may use your videos for more than just content promotion.
4. Case Studies
Case studies help in showcasing your expertise through client experiences. These are versatile content marketing strategies that can be presented in many ways. Yes, case studies could be blog articles, eBooks, podcasts, and infographics.
Show how your product has helped firms develop.
Before choosing a customer for a case study, identify which area of the firm you are targeting.
5. Email Marketing Strategy
Worldwide, 376.4 billion daily emails are projected to be sent in 2025. Studies demonstrate that email marketing may return $42 for every dollar spent. Digital marketing funnels can't function without email marketing.
Email marketing can be used at any point in the marketing funnel. It excels at both mid- and late-funnel customer acquisition and retention. Be sure to retain a current email list of new and returning consumers.
6. Templates
Content marketing templates can generate leads and wow your audience. Your audience will be more responsive if you give time-saving templates.
If your company is weak in certain areas, use a content marketing firm to help while your in-house specialists focus on their strengths.
7. Podcasts
If your target population doesn't have time or interest in daily reading, a podcast may reach them.
In 2021, podcast listeners in the U.S. rose 67%, reflecting the medium's popularity. Try podcasting if you have exciting guests or themes.
8. Infographics
Infographics are more interesting than text because they show facts. Use these formats as part of your content marketing plan if you have a lot of data to convey efficiently.
Any reputable agency can provide content marketing services when given the proper resources. They will know which infographic will fit your content marketing strategy.
9. Social Media
Consider a social media approach if you have been publishing regularly on your own site. You may share and adapt your information to deliver platform-specific content.
Social media posting is vital to broaden your business's reach and reach customers where they currently are. Learn more about your intended audience's online habits so you can reach them.
Using social media to reach clients where they are is essential for every company. Undoubtedly a content marketing agency will be able to help you in this matter with the right tools and skills.
How to Expand Your Content's Reach and Increase Conversions?
1. Prioritise Your Readers
Your target audience comes first when creating marketing material. Many firms fail at content marketing because they ignore what customers desire.
Your content marketing should be valuable to your audience. It might be a remedy to a common problem. For example- a thought on leadership, directions for a job, a strategy for reaching a goal, or something humorous. Think about how you can offer your audience relevant and helpful content.
2. Search Engine Optimisation (SEO) for Easy Discovery
The discoverability of your material will affect your content marketing. If the target audiences don't notice your posts, it doesn't matter how good it is; you won't have much success.
Sharing stuff on Google, YouTube, or Pinterest makes it easier for others to find it. So, employing high-traffic search terms in headers, descriptions, body text, and video uploads works.
However, far more sophisticated algorithms are at work on Instagram and TikTok. Using keywords and hashtags to express subject-related information is beneficial.
3. Instead of Selling to Them, Educate Them
Offering valuable resources for free may indirectly boost revenue. It's the long game again. It's rare for someone to read your blog or watch your video, be inspired, and then pay you.
Educating your target audience with content helps develop the know, like, and trust factor. It's an effective means of becoming a recognized expert in your field. In this way, your audience is basically presold on the idea of purchasing from you.
4. Applying Analytics to Your Content Marketing Strategy
Analytics should be used to monitor and measure content marketing performance. Analytics can show you whether your business's content marketing is paying off.
It's acceptable if your content marketing efforts don't all pay off in spades. It's a sign that you are not afraid to take risks and explore new ideas.
5. Find the Most Productive Ways to Get Traffic
When it comes to traffic, not all roads are made equal. If your clients prefer Facebook, Twitter's 200 extra visits for each post won't matter.
Compare the outcomes of different channels to find the most effective ones. From which source are you getting your most profitable leads? Analyze competitors' distribution networks and leverage them to your advantage.
A content marketing agency with many articles, emails, and social media posts will be confident in your brand. They know how to boost your rankings and website traffic using keyword research and exciting content.
6. Conduct a Content Audit
Most companies use blogs as their first online presence. If you want to vary your material, a content audit may assist you in determining which pieces are most successful. Then, let that data guide your subsequent steps.
If your firm has been established for a while, evaluate your content marketing during the previous year. Consider how you can improve in the new year and aim towards that. The time is now to ensure that your team's objectives align with the company's.
Content audits show what your audience finds most engaging, subject cluster gaps, and how to fill them.
7. Schedule and Handle Your Content
Your marketing approach should encompass both the kind and presentation of content. Create a well-rounded website with an editorial schedule. Organize your social media material and promote it using a calendar.
Conclusion
The best content marketing trends will meet your customers' needs. It's crucial to provide the correct information at the right moment.
Developing an effective content marketing strategy requires dedication, planning, and imagination. Follow these above-discussed steps and use the resources to create a content marketing strategy for your firm.